OCTOBER IS FIRE SAFTEY AWARENESS MONTH
Written by Caroline Hall Hennig:
Fire safety is an important subject that is near and dear to my heart. As many of you know, I suffered a severe burn almost 9 years ago. Since that day, I have taken fire safety and prevention very seriously. With it being the month nationally declared to help prevent fires, I thought I would bring to your attention a few statistics, precautions, recommendations, and other tips to consider. More details about fire safety than the "stop, drop and roll" or "get low and go" that they teach you in school.
DID YOU KNOW??
Almost HALF (49%) of home fires start in the kitchen.
Unattended cooking is the #1 cause of home fires
53% of house fire deaths occur between 11pm and 7am
3 out of 5 home fire deaths result because there were no working smoke detectors in the home.
Carbon Monoxide is the #1 cause of accidental death and only 47% of people have a CO alarm
60% of people DO NOT test their smoke or CO alarms
Less than half (43%) of people have a home escape plan.
40 years ago you had approximately 17 minutes to escape a house fire, today (thanks to synthetic building materials) you have 3 minutes or less!
Some of these statistics are pretty crazy right?! Well fire prevention month is a perfect time to talk with your family about fire safety and for you to work to help prevent home fires.
THINGS YOU NEED TO DO:
Test ALL your smoke detectors, replace batteries, and if over 10 years old just replace the detector.
Get a smoke detector for EVERY bedroom in your home. If possible, hardwire the smoke detectors together so that if one goes off they all go off to give more warning.
Do not leave flammable materials within 3 feet of the stove. Move all paper towels, dish rags, potholders, oven mits, etc away from the stove.
NEVER sit anything on the stove top (ie bags of groceries, a child, etc) even if you think the stove is turned off.
Get a fire extinguisher for the kitchen, garage, and each other floor of your home. And if you do not know how to use it, all local fire departments are happy to teach you or your children how to use them. Just call and schedule a time to go down to the local fire station.
Plan a fire escape route for everyone in your home, with TWO WAYS out of every room, and a meeting place outside and PRACTICE it if you have kids.
The last thing I want you to consider is something that is often times controversial in homes, but something that could save your life or the life or your children. CLOSE your bedroom doors when you go to sleep. For several years now, all of the large fire groups such as the US Fire Administration, the National Fire Protection Association, and the UL Firefighter Safety Research Institute, have done study after study showing why this is important. They have even labeled this program, "close before you doze" and are pushing it out whenever they can. Take a look at the picture below. These rooms are literally next to one another in a house where the hallway was on fire. One had an open door and one had a closed door. While the room that was closed got to 100 degrees, the other room got to a temperature of 1,000 degrees. Which room do you want your baby sleeping in??? You can make the decision for your family, but having suffered a burn, my kids both sleep with doors closed.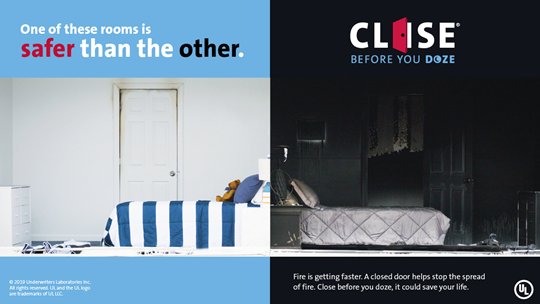 If you would like to see the video of the actual fire leading to this picture, follow this link and you can check out the really neat 5 minute video. https://ulfirefightersafety.org/research-projects/close-your-door.html